Wine and Food Pairing Event at Penina Resort
4 November 2015
---
20th November 2015 at 8.15pm at Le Grill Restaurant
To Book: Call (00 351) 282 420 200
The five-star Penina Hotel & Golf Resort has collaborated with award-winning winery Casa Ermelinda Freitas to offer an exquisite food and wine pairing event. You're invited to join us at Le Grill Restaurant for a delicious five-course dinner, with each serving accompanied by a carefully considered, complementary glass of wine. Each delicious hint, aroma and note will be explained by the bilingual oenologist, adding an informative layer to an exciting evening, which can be booked now for just €41.00 per person (including wines) by phoning (00 351) 282 420 200. Similar events in the past have sold out, so we advise reserving your place early to avoid disappointment.
An Authentic Taste of Portugal
Penina Resort can boast six fine dining destinations, one of which is Le Grill. Having gained admiration throughout the Algarve for its local and international gourmet cuisine, this restaurant is the ideal location for our wine and food pairing dinner... and its chefs have lined-up a mouth-watering selection for the event. Each of the five courses will focus on the wealth of fresh ingredients Portugal, and in particular the Algarve - which is bordered by the Atlantic in the south and vast countryside to the north - can boast.
The evening will begin with an amuse-bouche of poached oyster and seaweed; the latter of which is classed as a superfood due to its abundance of minerals and anti-oxidants. The next course will also seek inspiration from the Atlantic with prime of Gilthead Sea Bream served in a refreshing minted lemon emulsion. A blackened loin of Yellow Fin Tuna will be served next, and complemented by a citrusy yet spicy hit from Szechuan pepper. The pièce de résistance will be a delicious rack of lamb, complete with herb crust and an array of roasted autumnal vegetables to add a seasonal twist. To finish, Le Grill's chefs have looked to the country's national flower lavender to add a sweet and heavenly scented lift to crème brûlée.
The Perfect Pairings
These delectable courses will be served with their perfect pairings during the evening; each glass sourced from renowned winery Casa Ermelinda Freitas. The family run business, now headed by Leonor Freitas, launched in 1920, but only began branding its wines in 1997, however the company has gone from strength to strength, with Leonor being awarded rank of Commander of Agricultural Merit by Portuguese President Aníbal Cavaco Silva in 2009. Located not far outside of Lisbon, vineyards here boast a wide variety of grapes, and combine old and new technologies and techniques to gain the highest level of quality, including ageing in oak barrels.
The first two fish dishes of the evening will each be served with a crisp glass of white wine, beginning with the Espumante Ermelinda Bruto, which will complement the oyster amuse bouche with a hint of citrus. The refreshing honey and tropical fruit notes of the Dona Ermelinda Branco will be paired with the Bream, while a ristretto of Dona Ermelinda Reserva Tinto, with its smoky and spicy aromas will accompany the raw tuna loin. The award-winning Quinta da Mimosa will be brought out to accompany the succulent lamb main, boasting a lingering finish and aromas similar to preserved red fruits. Last but definitely not least, the delicate flavours of the lavender crème brûlée will be enhanced by the honey and orange peel aromas of the Moscatel, providing a sensational finish to a truly memorable evening out. 
Book Your Place Today 
This unmissable wine and food pairing event will be taking place at Le Grill restaurant at Penina Hotel & Golf Resort at 8.15pm on the 20th of November 2015. Tickets are available now for €41.00 per person including wines; please call (00 351) 282 420 200 to book your place.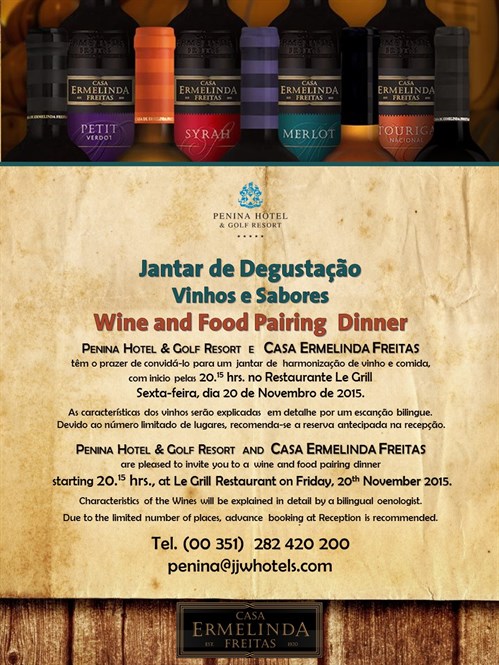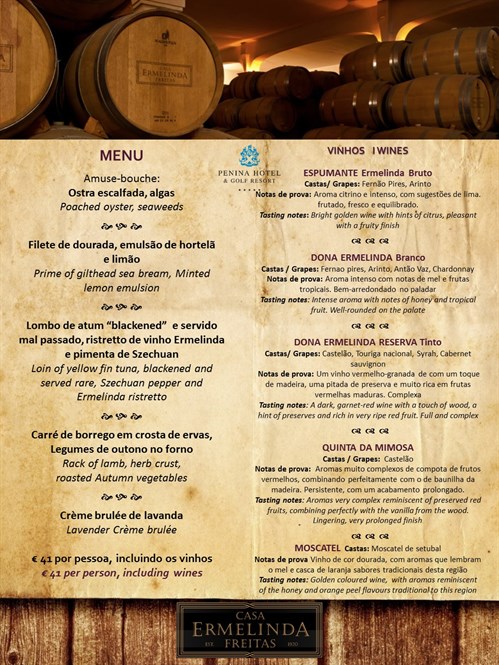 A Unique Tasting Experience During a Luxury Algarve Getaway
With seasonal highs of 16C, world-class golf experiences including the chance to play on the Sir Henry Cotton Championship Course and a whole host of luxury facilities, there's plenty to look forward to during a November break at Penina Hotel & Golf Resort. If you're planning a late autumn escape to the Algarve, why not sample some of the finest flavours Portugal has to offer during your five-star stay at Penina? Take a look at our latest offers and packages, before booking your place at our exclusive wine pairing event.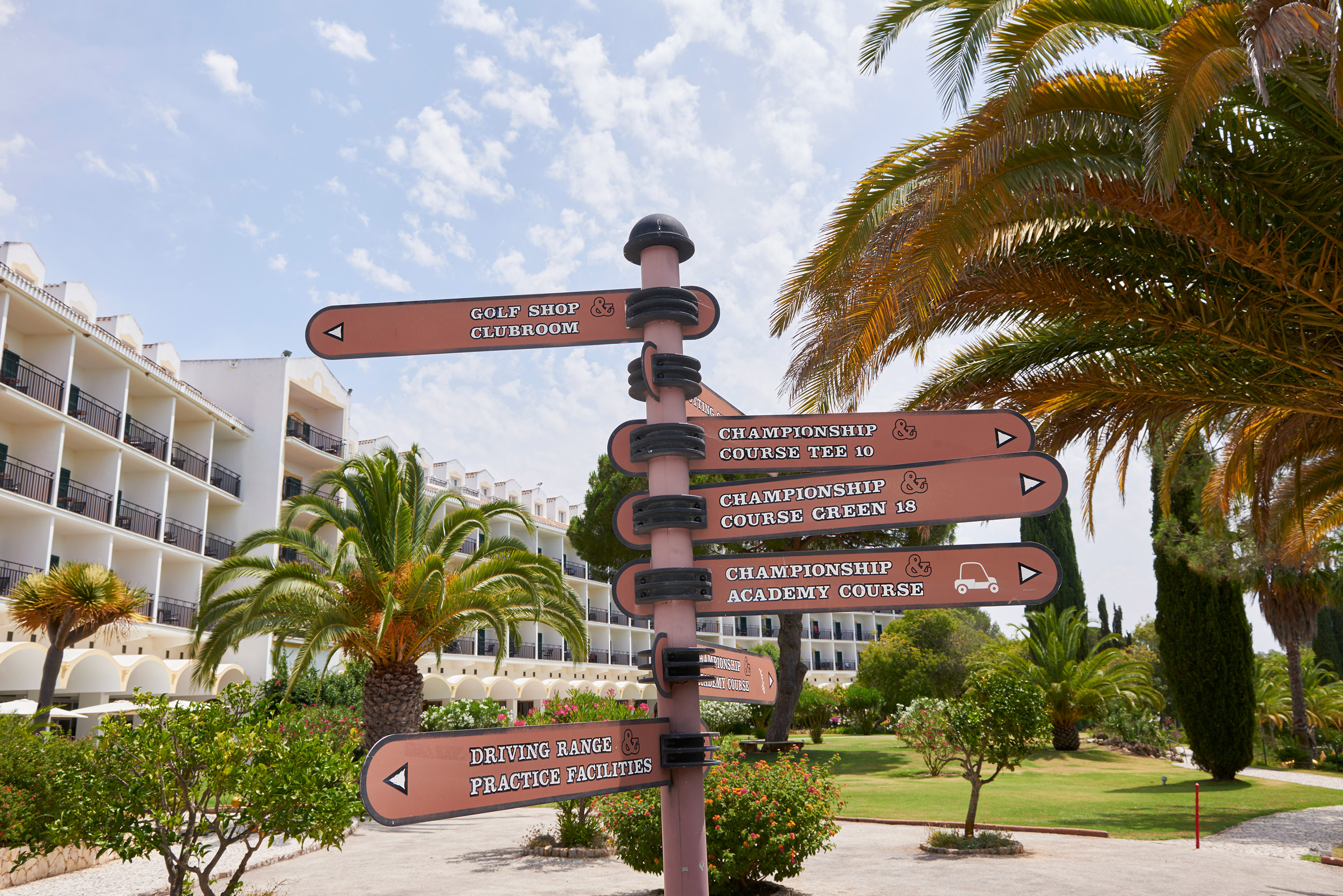 Golf Holidays at Penina Hotel & Golf Resort
Join us for a five-star getaway in the Algarve, filled with great golf, unrivalled gastronomy, exciting evening entertainment and a luxury stay at Penina Hotel & Golf Resort: all included with our selection of exclusive 3 or 7 night golf packages.
Click here for more
The International Pairs World Final 2017
Last November, Penina Hotel & Golf Resort hosted the International Pairs World Final. Take a look at some of the highlights as they played out on our stunning Sir Henry Cotton Championship Course.
Click here for more