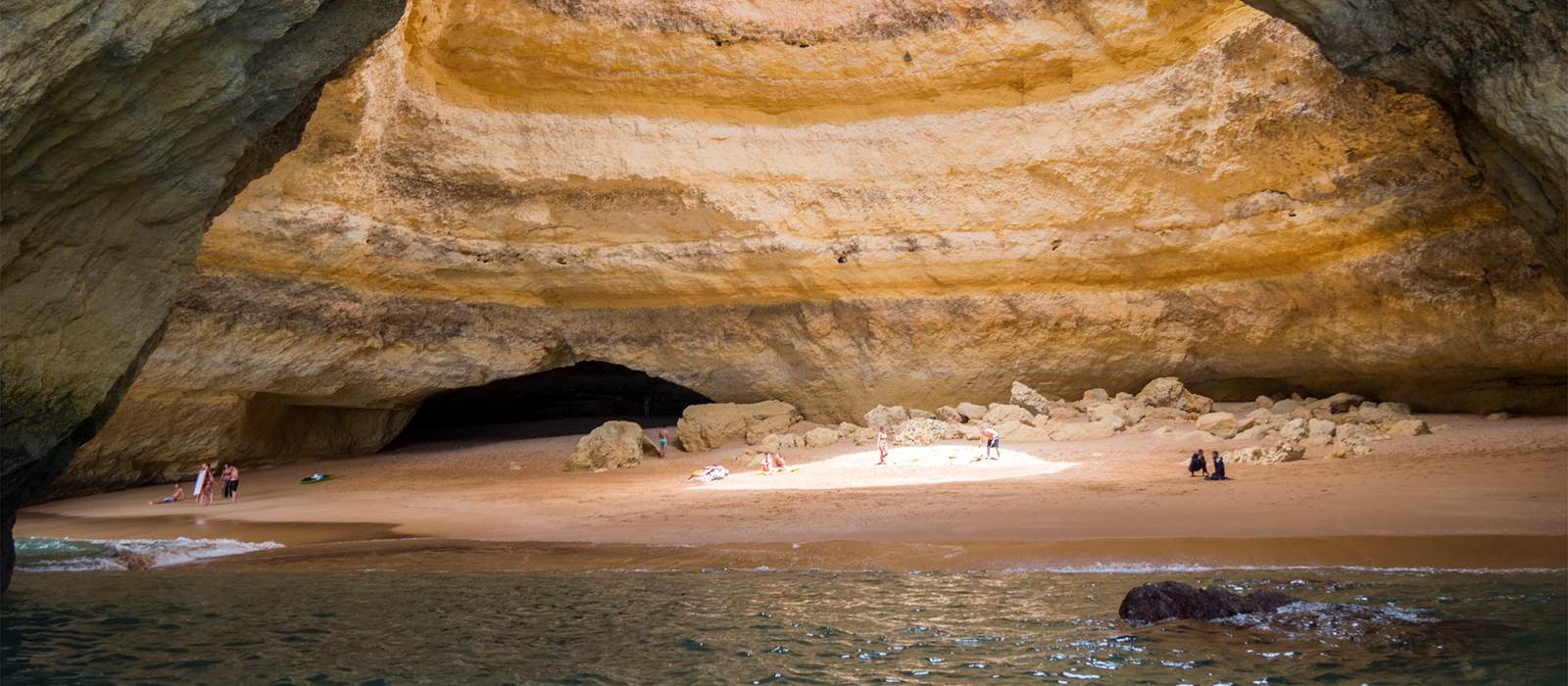 Fun-Filled Activities in the Algarve
Plan an Unforgettable Holiday for the Whole Family at Penina
As well as being one of the world's most sought-after golf destinations, the Algarve can also boast a whole host of other outstanding, exciting and world-class activities. Whether you're looking for family-friendly days out, hoping to discover the authentic Algarve, or in search of the adventure of a lifetime, the Algarve can deliver everything needed for a fun-filled holiday. Take a look at our guide to some of the many highlights you could be looking forward to during your five-star stay at Penina and start planning your ultimate luxury break in the Algarve today.
Excursions in the Algarve & Beyond
There are many fascinating destinations to discover within a short distance from Penina Resort, such as Lagos, Costa Vicentina, Monchique and Loulé. From half-day jaunts to the impressive fort at Sagres, to a full day out to see Lisbon's many monuments, the chance to explore Silves, which was once the Moorish capital of the Algarve, or a visit to Cape São Vicente's lighthouse... there'll be an adventure to suit all interests. If you'd like any guidance on where to visit or how to book excursions, please contact our dedicated team on +351 282 420 200 or [email protected].
Boat Trips to Benagil and Ponta da Piedade Caves
The Algarvian coastline is home to many awe-inspiring caves. The easiest way to discover these impressive rock formations is via boat and the most famous is widely regarded as the Benagil Sea Cave. This dome-shaped natural structure has been named the 9th 'Coolest Cave in the World' by The Huffington Post for its triple arched entrance and spot-lit self-contained sandy beach. While, Ponta da Piedade, the 'point of Piety', is easily accessible via a boat trip from Portimão and offers an array of natural tunnels and hidden grottos to explore between its rock pillars and weathered cliffs.
Jeep Safaris to the Monchique Mountains
Those seeking an exciting adventure should no look no further than a hang-onto-your-seat jeep safari through the stunning Monchique Mountains; dense in eucalyptus and pine trees. These occasionally off-road excursions can offer a whole host of unique Algarvian experiences including the chance to drink water from the 'Fonte dos Amores', take a dip in a fresh water lake and sample local honey. Other key attractions and experiences may include an insight into local history at House of Monchique museum, a tour of the medieval Castle of Aljezur and the opportunity to admire outstanding views from Fóia; the highest point in the Algarve. Pass through the picturesque white-washed Monchique market town and venture into an an area of stunning natural beauty to discover the authentic Algarve.
Dolphin Watching
Take the opportunity to watch dolphins interact in their natural habitat during a family-friendly boat excursion in the Algarve. There are a variety of wild dolphin that call this stretch of the Atlantic Ocean home, including the Bottlenose, Common, Risso's and Striped species, while the likes of Orca and Fin whales, basking sharks and common turtles have also been known to put on a show for audiences. A range of companies offer packages, some of which include the chance to explore local caves, take a dip in the sea and enjoy stunning views of the Algarvian coastline.
Cycling and Walking Trips
The Algarve can boast a stunning selection of natural landscapes to explore by foot or bicycle, from miles of unspoilt coastline to undulating hills in the north. There are a variety of organised walking and cycling tours in the area, or alternatively enjoy exploring yourself with bike hire from Penina. Our dedicated team will be more than happy to help plan out routes, recommend local attractions and assist with maps. 
Skydiving Experiences
Thrill-seekers can enjoy the ultimate view of the Algarve... from 4,300 metres above. There are a range of skydiving experiences on offer in the area; from one-off tandem skydives for first-timers, to seven day courses for those keen to learn how to skydive during accelerated freefall. No experience is necessary for tandem skydives, during which participants will be securely harnessed to a qualified instructor, while those with a little more experience can opt for formation skydiving, instructor courses and even taking part in organised boogies. As the warmest jump site in Europe during the winter months, and the opportunity to land on the white sands of Alvor and Rocha beaches, the Algarve is the perfect destination for a truly breathtaking experience.
Diving Experiences at the Ocean Revival Park
If an underwater adventure sounds more appealing, you'll be excited to discover that the Algarve is home to the world's largest artificial reef. Created during 2012 and 2013 by sinking four decommissioned Portuguese Navy ships, the Ocean Revival Underwater Park offers the chance to discover developing ecosystems via an awe-inspiring network of corridors. Boasting 300 days of good diving a year, structures to explore measuring up to 102 metres, and an impressive variety of wildlife to see including conger eel, scorpian fish and sea horses, this is a must for any diving fan.
Portimão Museum
The Algarve is rich in history and culture, and Portimão Museum is one of the many destinations that can offer further insight into local life in the past and present. Situated along the waterfront within a restored 19th century fish canning factory, the award-winning museum offers an array of artefacts, pictures and videos centred around the historical, territorial, industrial and social evolution of the Portimão community. Alongside temporary art displays and an extensive archive, the main 1,000m² exhibition offers three key sections, which include the chance to see underwater footage of local flora and fauna beneath the arches of the factory's old water cistern, and will ensure a fascinating day out for the whole family.
Wine Tastings & Wine Tours
With 3,000 hours of sunshine per year, perfect soils and protection from cold winds, the Algarve offers the ideal climate for producing delicious wines. Discover more about the region's 80 different grape varieties and the range of techniques used in its vineyards during tastings and tours, including those offered at Penina's Le Grill Restaurant, Cliff Richard's Adega do Cantor, and small family estate, Quinta do Francês. Located just 15 minutes from Penina, Quinta dos Vales also offers the chance to sample and discover the secrets behind some of its award-winning wines, alongside the opportunity to view over 100 sculptures in one of the largest open-air galleries in the Algarve.
Family & Water Parks
The Algarve can offer many family-friendly attractions, including seasonal water parks. Attractions include a 36 metre 'Kamikaze' slide that offers a nail-biting four second drop, the chance to float down a 270 metre river on inflatables and many outstanding children's parks. While others offer animal and bird presentations featuring the likes of seals and parrots, the opportunity to swim with dolphins and a 4D cinema experience about sea turtles. For a more educational day out, the Algarve's Living Science Centre is home to interactive displays dedicated to subjects including the solar system and renewable energies, alongside a roof terrace that offers views over the beautiful Ria Formosa nature park.
Karting & Driving Experiences
Racing fans will enjoy a visit to Autódromo Algarve, which boasts 32 different circuit layout possibilities, some of which can stretch out up to the F1 length of 4,684 metres. There's also an off-road course, racing school that offers the chance to enjoy a spin in a Porsche 911 Carrera and motorbike track sessions. Those who prefer karting can race around one of the largest karting tracks in Europe here; measuring an impressive 1,531 metres, or opt for the challenges of a 12 corner track at Hot Wheels Raceway.
Birdwatching in Ria de Alvor
Situated within a 10 minute drive from Penina, over 3,500 acres at Ria de Alvor Nature Reserve provide a home to many wintering, migrant and resident birds. Named a RAMSAR site and Special Conservation Area by Natura 2000, its array of habitats include salt marshes, mud flats and sand dunes all situated around a stunning natural lagoon. Stroll along its miles of boardwalks to spot pink flamingos, the Great Spotted Woodpecker and Iberian Azure-Winged Magpies amongst many other species, while those wishing to learn more can attend demonstrations of bird ringing at Cruzinha; a field study centre run by A Rocha.
Surfing, Bodyboarding and Paddling
The blue-flag awarded Praia de Alvor is the nearest beach to Penina and is also home to the Resort's Dunas Restaurant. As well as providing a white sandy stretch on which to enjoy a relaxing afternoon of sun-worshipping, its crystal clear Atlantic waters can also offer an array of watersports. The more adventurous can look forward to windsurfing, kitesurfing, bodyboarding, sailing, kayaking, wakeboarding, water skiing and a ride on a jet ski, while more family friendly options will include the markedly slower paced paddle and pedalo boat rides. 
With so many exciting options to choose between, it'll be easy keeping the whole family entertained during a luxury stay in the Algarve. If you'd like further information on any of the above ideas, or alternatively, would like to enquire about other activities not mentionned above, please contact our dedicated team on +351 282 420 200 or [email protected], who will be happy to assist you.