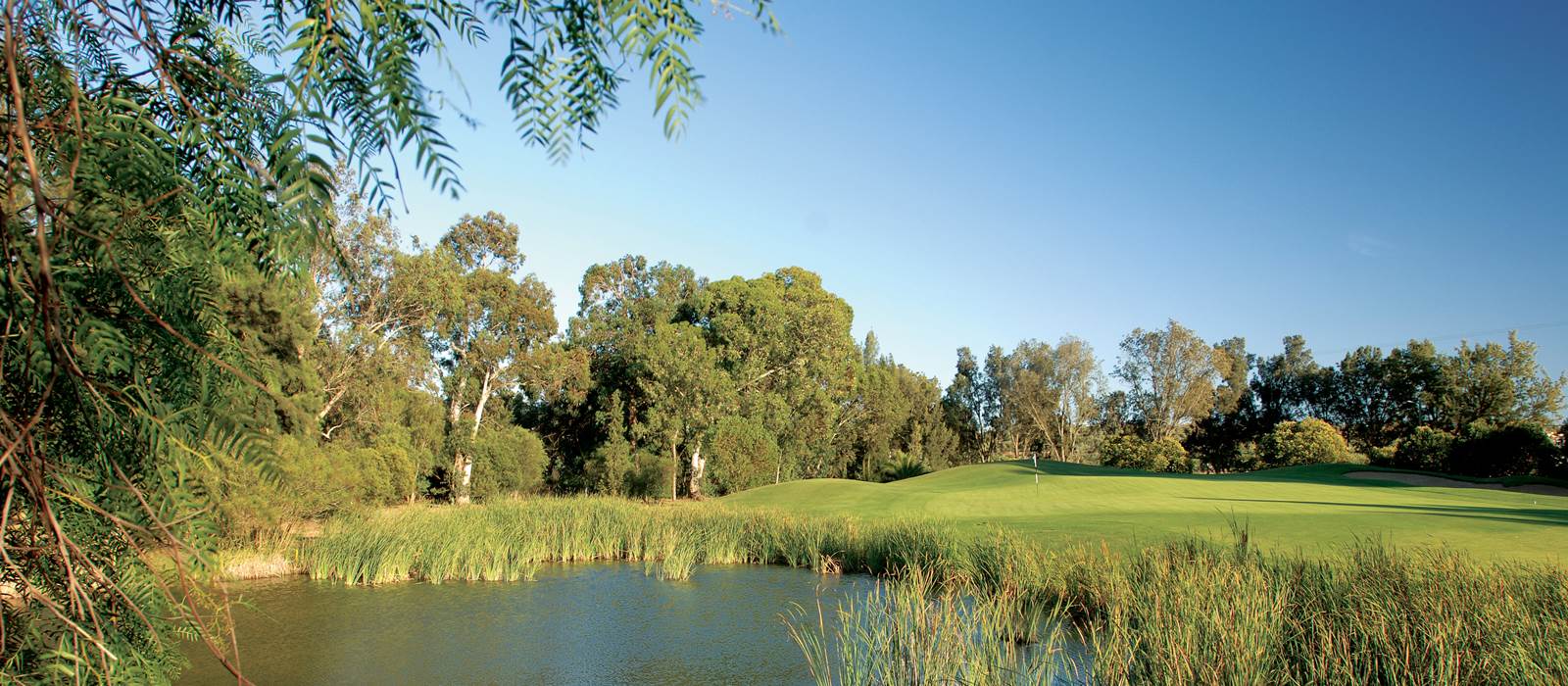 Sir Henry Cotton Championship Course: Rules & Specifications
World-Class Golf in the Algarve
The Sir Henry Cotton Championship Course, or The Penina, as it was first known, was designed and laid out by its namesake - and three times British Open champion.
Known as one of the most challenging - and satisfying - courses in the whole of Portugal, this marquee course is as unforgiving as it is beautiful. Flanked by streams, ditches and water hazards, the course is maintained to the highest standard... and boasts an extensive array of subtle slopes, elevated greens and breathtaking scenery.
Holes: 18
Par: 73
Handicap:
Men - 28
Ladies - 36
Course Length:
White marks - 6273 metres (6860 yards)
Yellow marks - 5827 metres (6373 yards)
Blue marks - 5414 metres (5918 yards)
Red marks - 5140 metres (5621 yards)
Course rating:
White marks - 73.7
Yellow marks - 71.5
Blue marks - 74.9
Red marks - 73.2
Slope Rating:
White marks - 138
Yellow marks - 137
Blue marks - 132
Red marks - 129
Grass:
Fairways - Lolium Perene, Poa Pratensis, Creeping Bent
Greens - Creeping Bent Cobra
The rules followed on the Sir Henry Thomas Cotton Championship Course are those of the Royal and Ancient Golf Club of St. Andrews
The course also follows the following local rules:
Dress Code:
No T-shirts, jeans or tennis shoes. Soft spikes mandatory on all courses
Out of Bounds (white stakes or lines):
The stream on the left of the second fairway
All ground to the right of the lake on the 13th
Practice areas
Tar roads and any ground beyond them
Water Hazards (Yellow stakes or lines):
The ditches across the 2nd, 7th, 8th, 9th, 10th, 16th, 17th and 18th fairways and the lakes on the 5th and 12th.
Relief may be taken (one stroke penalty) under rule 26-1 (a) or (b).
Course Markings:
White Stakes - Out of Bounds
Red Stakes - Lateral Water Hazard
Blue Stakes - Ground Under Repair
Etiquette:
Please smooth bunker footprints
Replace divots
Repair pitch marks
No more than 2 people in any one golf buggy
Any match that loses ground on the players in front is obligated to wave the following group through