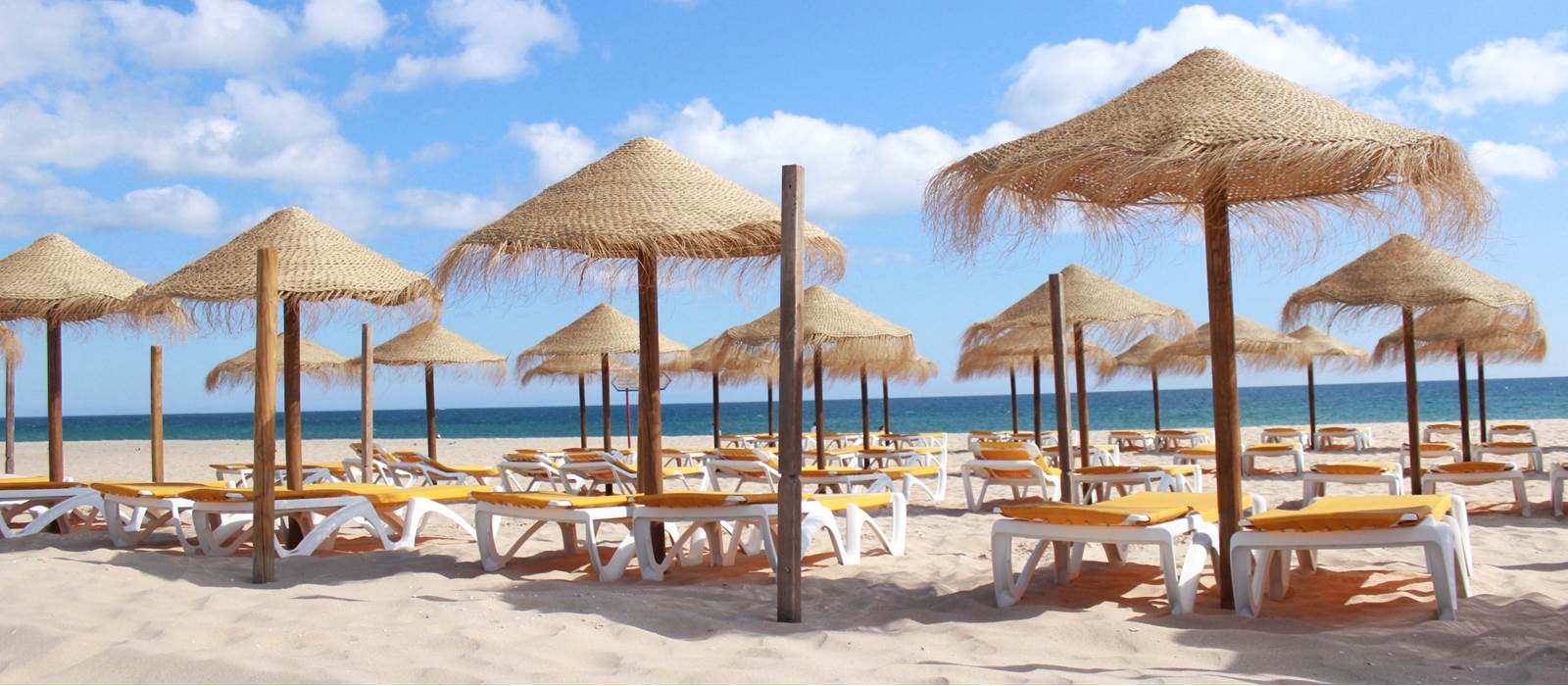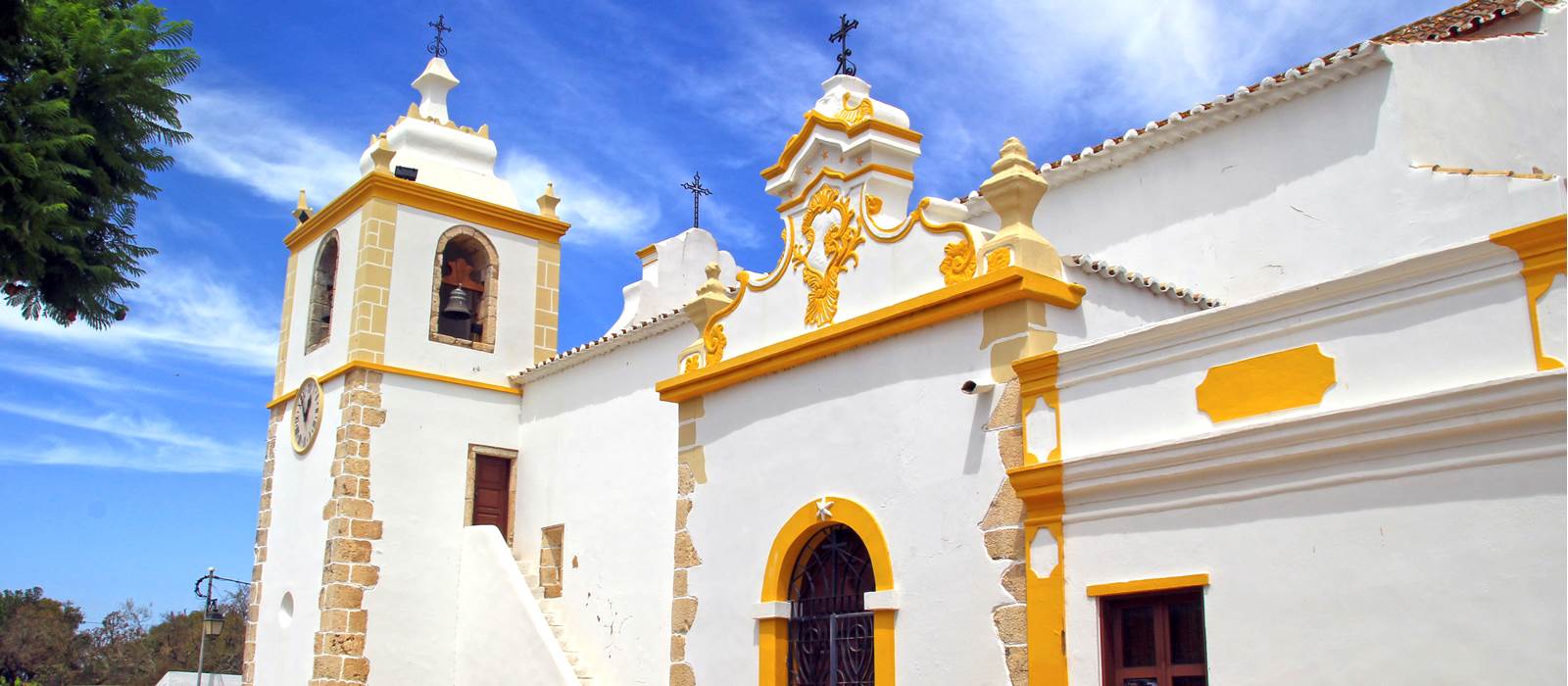 Penina's Beach Club at Praia de Alvor
Enjoy an Exciting Day Out at an Idyllic Beach
Located a short ten minute drive from Penina's five-star resort, the blue flag awarded Praia de Alvor offers an unspoilt expanse of white sand bordered by grassy dunes and a sparkling stretch of the Atlantic Ocean. Its vast length means no fighting it out for that elusive beach spot and its flat landscape offers easy access for all… and if that isn't appealing enough, it also boasts an array of exciting leisure and dining experiences. Find out what a day out on one of the Algarve's most beautiful beaches can offer you during a luxury stay at Penina.
Guests at Penina get exclusive access to their own private beach area, complete with luxury loungers, concessions and refreshments... as well as complimentary travel to and from the beach.
Leisure Activities & Sights
This picturesque stretch offers an array of exciting leisure activities suited to both sporty types and those simply hoping to relax back and soak up the sun. Sun loungers and parasols are available to hire, however, with such soft sands, a towel can be just as comfortable here. Those wishing to cool off will feel pleasantly refreshed after taking a dip in the crystal clear and clean Atlantic waters, while the more adventurous can opt for windsurfing, kitesurfing, sailing or kayaking.
The calm waters are ideal for trying out a new water sport and beachside specialists provide a range of activities throughout the day. Try your hand at wakeboarding or water skiing, invite friends along to enjoy a Banana Boat ride and enjoy watching the white stretch of sand disappear into the distance while on a jet ski ride. More family friendly options are also available, including the chance to take in the sights from a slower paced paddle or pedalo boat.
Those hoping to see more of the Algarve's beautiful scenery should take a wander to the east of the beach, where they can find Praia dos Três Irmãos. 'Three Brothers Beach' is named after the three stunning rock formations dotted around the bay, which not only offer shelter but also make it even more breath-taking. Take the opportunity to explore its cave before sitting back to admire one of the Algarve's most stunning natural horizons. 
Beachside Snacks & Fresh Seafood
Between April and October, Penina's Dunas Restaurant offers a selection of ice cold drinks, delicious snacks and meal options in the beach's grassy dunes. Diners are invited to take in exceptional views out to sea while sampling freshly caught fish and speciality Algarvian dishes such as octopus and bean stew, all served with first-class service. The local cataplana is a favourite, while the likes of grilled Scorpion fish and White Sea Bream are served with baby potatoes and fresh vegetables.
To deliver a true taste of the region, the Dunas team source the finest local ingredients for its menu such as succulent Rock Lobster, black pork belly native to the Iberian Peninsula and dry-cured ham from the mountainside market town of Monchique. For something a little lighter, diners can opt for chargrilled piri piri chicken sandwiches, a cooling bowl of gazpacho or freshly made organic salads, with prices starting from just €4.50. Meanwhile, the sweet-toothed will be tempted by a display of delectable desserts including refreshing water melon slices and fig cakes, a fruit found in abundance amongst the area's rolling hills. 
Alvor Village & Nature Reserve 
A mere 10 minute stroll from the coastline, the picturesque Alvor village has become famous for its whitewashed facades and characterful charm. Alongside its fishing boat filled harbour, its winding cobbled streets are home to many bars and restaurants, interspersed with stylish boutiques stocking beautiful costume jewellery and souvenirs. After enjoying the chance to try international cuisine from the likes of China, India and Italy, a short walk to Ria de Alvor will offer further insight into the regions natural beauty. The nature reserve's almost two and a half acre landscape features a natural lagoon, marshes filled with wildlife and miles of boardwalk to admire it from. 
With a free seasonal shuttle bus provided by Penina Hotel, or alternatively, an easy-access beachside car park for those who prefer to drive, Praia de Alvor will provide a fun-filled day out for the whole family along one of the most stunning stretches of the Algarve coastline. With world-class golf courses, five-star service and additional leisure facilities including the largest private outdoor non-heated pool in the Algarve, Penina can offer both the very best luxury facilities as well as a chance to admire the natural beauty the area is famed for.