Wine and Food Pairing Dinner at Penina Resort
18 January 2016
---
29th January 2016 at 8.15pm at Le Grill Restaurant
To Book: Call (00 351) 282 420 200
Penina Hotel and Golf Resort's first wine pairing event of 2016 is set to be unmissable owing to an exclusive collaboration with Reynolds Wine Growers. On the 29th of January, we'll be offering the chance to sample five delicious courses, each accompanied by a complementary glass of highly-acclaimed Reynolds wines at our fine-dining restaurant Le Grill. A bilingual oenologist will also be on-hand to explain the carefully considered pairings and each wine's unique characteristics. This informative yet entertaining food and wine pairing event is bookable now for just €45 per person by calling (00 351) 282 420 200, and we recommend reserving your place early due to similar events selling out in the past. 
Gourmet Dishes with Traditional Ingredients  
Le Grill has gained much admiration for the local and international gourmet dishes it specialises in serving. One of six food and drink destinations that call Penina home, it boasts a dedicated team of talented chefs who have put together an outstanding five-course menu for the wine pairing event. Dishes will feature fresh Portuguese ingredients to deliver a true taste of the Algarve and beyond this January. 
Due to its popularity, it's said that there's a different cod recipe for every day of the year in Portugal. One of these is Codfish Pearls; an amuse bouche consisting of small spheres of cod surrounded in seasoned breadcrumbs, which will served at the start of the evening. The exploration into seafood will then turn to the Scorpionfish, which can be found in rocky alcoves along the Algarvian coastline. A roasted fillet will be served with clams, as well as marsh samphire, which is a succulent and salty plant, found in areas such as the Ria Formosa Nature Reserve. 
The next offering will be a quail salmi, a ragoût based dish that'll be accompanied by Carqueja rice; infused with the flowering Portuguese plant. The main dish of the evening will follow; Rossini loin of venison, flavoured with pine needles, and served with an array of root vegetables. While a tempting selection of dark chocolate truffles and fresh red berries will provide a truly indulgent finish to this unforgettable event.
A Historic Vineyard with High Quality Wines
Each mouth-watering dish will be served in the elegant surroundings of Le Grill with a complementary wine courtesy of Reynolds Wine Growers. The Reynolds family first arrived in Portugal from England in 1820 and opened a cork factory in 1838... however it wasn't until 1850 that Robert Reynolds ventured into producing wine. His great-great-grandson Julian now holds the reins of the business and the winery's products are currently sold in the finest restaurants in every continent. 
Its 100 acre vineyard is located within the Parque Natural da Serra de São Mamede, to the north of Alentejo, and grows a variety of both native and international grapes. However its main focus is on the Alicante Bouschet; a cross between the Petit Bouchet and Grenache that the family themselves introduced to the country. Fermented in French oak casks and aged for atleast eight years before release, it's no wonder its wines have attracted attention from the likes of leading wine critic Robert Parker. 
This January there's the chance to try five of its finest offerings, each perfectly paired with delicious dishes. The citrus flavours of the Reynolds Arinto will be an ideal match for the cod amuse bouche, before moving onto a white wine named after Julian's mother, Gloria Reynolds. Made entirely from the Portuguese white grape Antão Vaz, its lingering mineral aftertaste will be refreshing with the salty flavours of the Scorpionfish and samphire. 
The quail will be served with a mix of Alicante Bouschet, Trincadeira and Syrah grapes in the Reynolds Tinto Grande Reserva, while the rich taste of venison will be offset with the fruity aromas of the red version of Gloria Reynolds, Art & Tradition. To finish, the indulgent dessert will be enhanced by the spicy and red fruit aromas of the Robert Reynolds Fortified Wine, produced entirely using the Alicante Bouschet.  
Book Your Place Today 
Penina's exclusive wine and food pairing event will be taking place at Le Grill restaurant at Penina Hotel & Golf Resort at 8.15pm on the 29th of January 2016. Tickets are available now for €45.00 per person including wines; please call (00 351) 282 420 200 to book your place.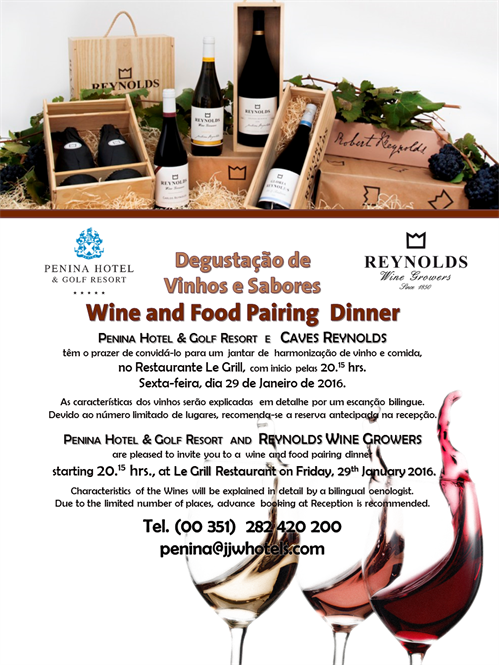 A Taste of Portugal During a Five-Star Break
Offering the chance to test skills on the world-renowned Sir Henry Cotton Championship Course, make use of floodlit tennis courts and a FIFA sized football pitch… as well as sample a true taste of Portugal in the luxurious surroundings of Le Grill restaurant, Penina Resort is the perfect destination for a five-star getaway in the Algarve this January. If you're considering booking a winter break in the sun-soaked Algarve, take a look at our exclusive rates and latest accommodation offers here.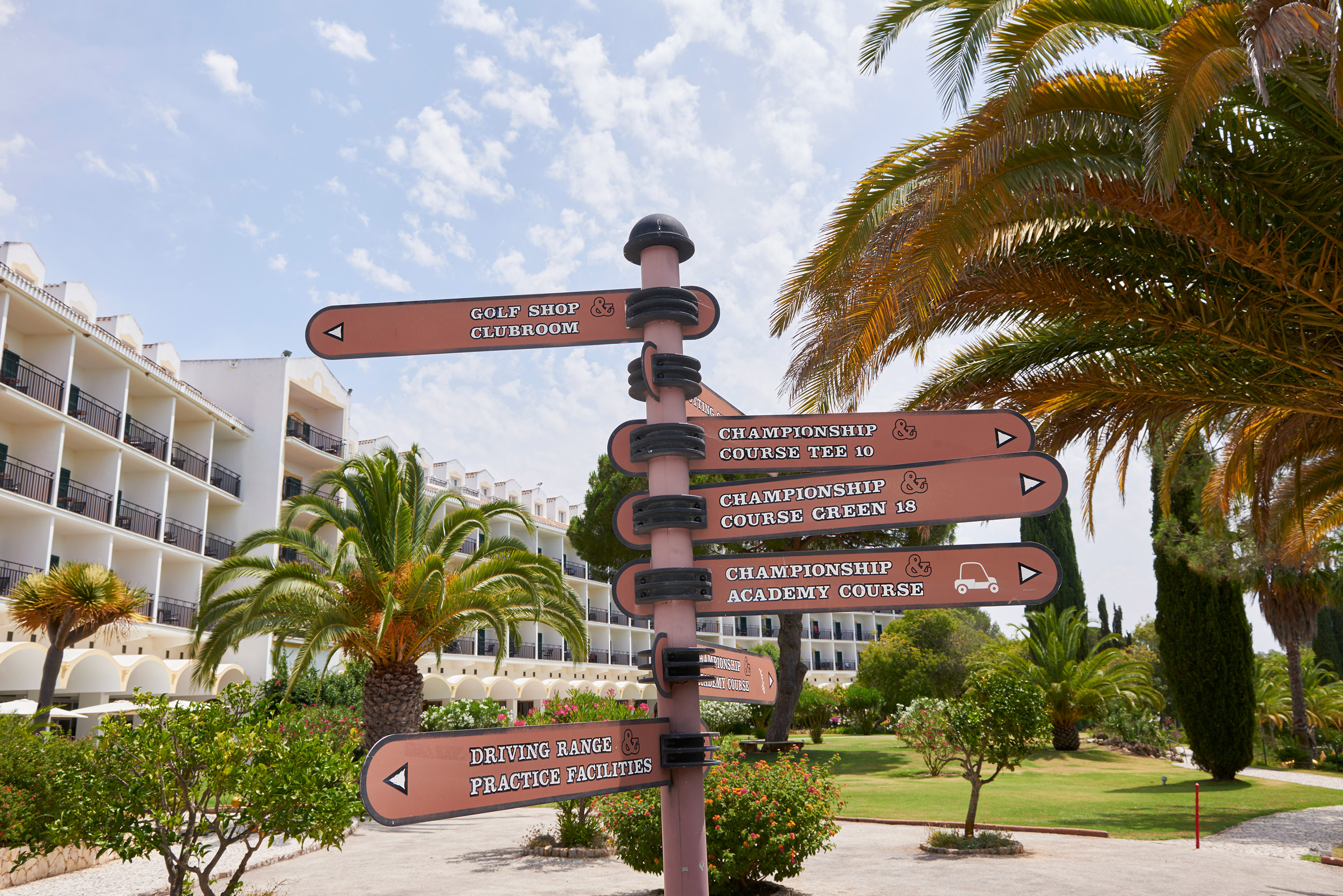 Golf Holidays at Penina Hotel & Golf Resort
Join us for a five-star getaway in the Algarve, filled with great golf, unrivalled gastronomy, exciting evening entertainment and a luxury stay at Penina Hotel & Golf Resort: all included with our selection of exclusive 3 or 7 night golf packages.
Click here for more
The International Pairs World Final 2017
Last November, Penina Hotel & Golf Resort hosted the International Pairs World Final. Take a look at some of the highlights as they played out on our stunning Sir Henry Cotton Championship Course.
Click here for more