Penina Hotel & Golf Resort Nominated for World Travel Award
5 April 2016
---
Press Release: WTA Nomination for Portugal's Leading Resort
Penina Hotel & Golf Resort has just been nominated as Portugal's Leading Resort at the World Travel Awards. The nomination recognises the hotel's exceptional luxury, market leading amenities and the highest possible standards of five-star customer service and satisfaction.
Since 2004, the hotel has received an impressive 16 nominations from the World Travel Awards, winning four in the categories of Portugal's Leading Golf Resort and Portugal's Leading Resort. This year, however, the nomination is extra special as the hotel is currently celebrating its 50th year at the forefront of luxury travel in the Algarve.
Not only was Penina the first resort of its kind in the Algarve, but it also constructed Portugal's first ever 18-hole championship golf course, the Sir Henry Cotton… which was conceived, designed and built by the famous English golfer himself and paved the way for golf in the Algarve.
Over the years, Penina has stayed true to its golfing roots, playing host to a record ten Portuguese Opens; but has also blossomed into one of Europe's finest family hotels, boasting 6 restaurants and bars, the largest outdoor swimming pool in the Algarve, a hugely popular kids club… and an exceptional beachfront restaurant just minutes away.
The traditions, outstanding luxury and world-leading service that began 50-years-ago continue at the Penina Hotel & Golf Course today… and if you would like to vote for the hotel in the latest World Travel Awards:
Note to Editors:
Penina Hotel & Golf Resort
Set within 360 acres of perfect grasslands and natural beauty, the Penina Hotel & Golf Resort is the original home of golf in the Algarve. With three golf courses - including the Algarve's first 18 hole Championship course, this luxury five-star Algarve hotel leads the way in high-class service, Portuguese charm and exceptional golf. Perfect for luxury Algarve golf breaks, relaxing family holidays and corporate retreats.
The hotel also offers 6 restaurants and bars, ATP standard tennis courts, the largest private outdoor pool in the Algarve, full size football pitch, sauna and a 24 hour fitness centre. It also boasts a private beach bar on the nearby Dunas Beach.
Sir Henry Cotton Championship Course at Penina
Known as one of the most challenging – and satisfying – courses in the whole of Portugal, Penina's marquee course is as unforgiving as it is beautiful. Flanked by streams, ditches and water hazards, the course is maintained to the highest standard… and boasts an extensive array of subtle slopes, elevated greens and breath taking scenery.
Resort Course at Penina:
A great combination course that provides 9 holes of solid, but gentle, practice for beginners… or alternatively, 18 holes of challenging golf for the more seasoned player. Blessed with a range of well thought out holes, this course follows the principles laid down by the father of Portuguese golf, Sir Henry Cotton: the perfect course for golfers of every level and ability.
Academy Course at Penina:
This delicately balanced 9-hole course has been specifically designed for the intermediate golfer… and is great for all-round, thoroughly enjoyable holiday golf. With reasonable short greens, accuracy off the tee, and manageable – but entertaining – approach shots, all players are given the chance to practice their short game with aplomb.

Please call +351 282 420 200, or email penina@jjwhotels.com for more information.
Ends:/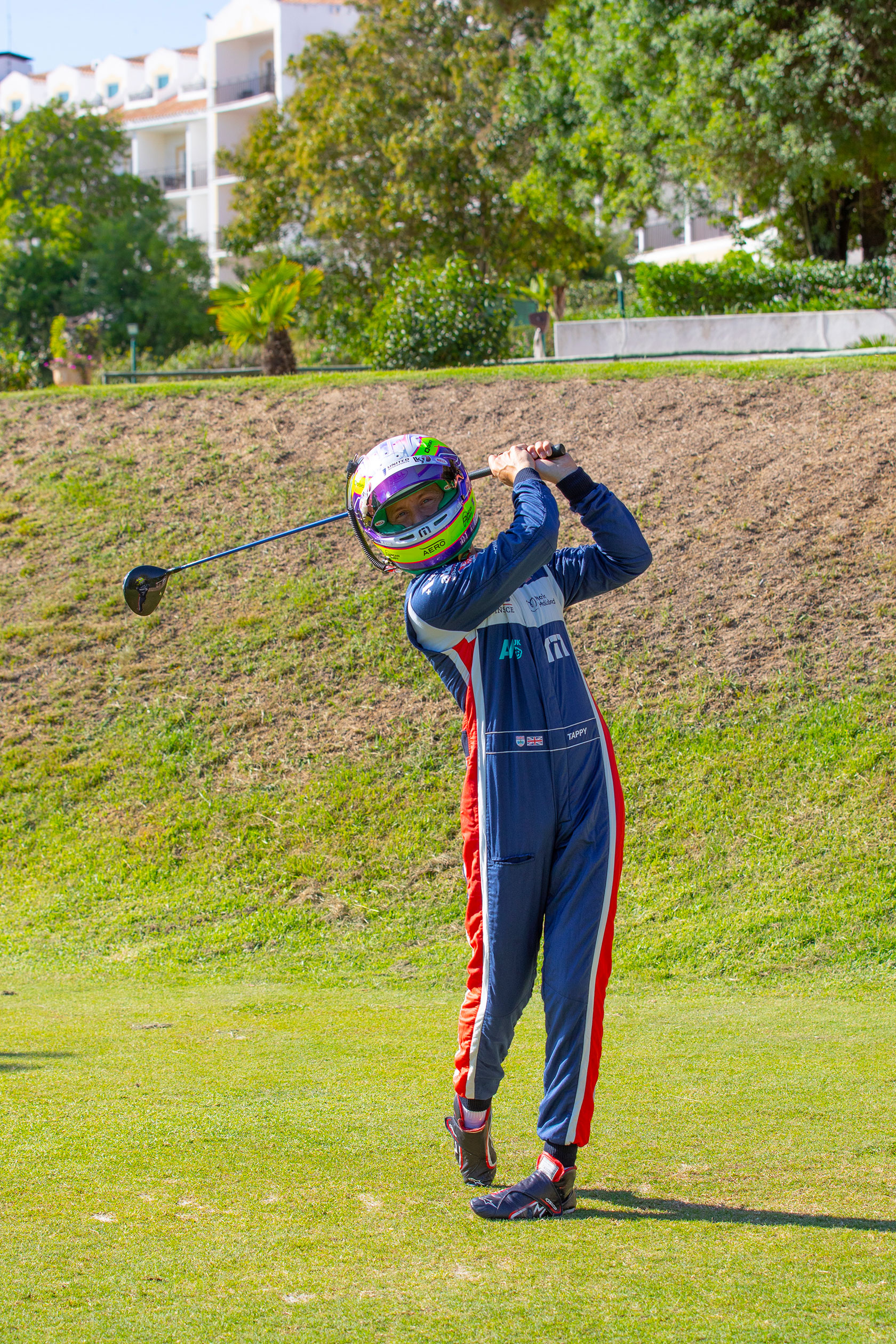 United Autosports Play Penina's Sir Henry Cotton Championship Course in Full Race Gear
Racing drivers Tom Gamble, Phil Hanson and Duncan Tappy took to Penina's renowned championship course this October for fun, sun and golfing giggles.
Click here for more
Golfing Holidays in Portugal
Penina is the perfect destination for golfing holidays in the Algarve, with 3 outstanding courses, exquisite dining, relaxed bars and luxury service. Not only are we the region's first five-star resort, we also introduced golf to the Algarve... and are renowned as one of the finest destinations in Portugal.
Click here for more