Fine-Dining with Wine Pairing in the Algarve
20 February 2015
---
27th February 2015 at 8.15pm at Le Grill
To Book: Call (00 351) 282 420 200
Penina Hotel and Golf Resort would like to invite you to an evening of tempting dishes and fine wine this February. Working in collaboration with Quinta do Francês, the five-star hotel is offering six delicious courses accompanied by five glasses from the award-wining Algarvian winery, with each pairing crafted to offer an exceptional balance of flavours. The characteristics of each red, white and rosé wine will be explained on the night by a bilingual oenologist, ensuring an informative and exciting event that will impress even the most seasoned of palettes. The five-star hotel has already hosted several very successful pairing dinners over the past year, so be sure to book now to avoid disappointment.
A Portuguese Feast
The five-star hotel's Le Grill restaurant prides itself on providing gourmet Portuguese and international dishes throughout the year and has created an extra special menu for the tasting event. The evening will begin with feta cheese amuse-bouches with a twist, which will be closely followed by delicious rillettes of duck served with a rocket salad and crostini. With a local fishing heritage, the Algarve is known for its exceptional seafood delicacies, which will be showcased in the next two courses. An aromatic tarragon sabayon sauce will be drizzled over pan-seared prawns and a delectable dish of braised monkfish cheeks, button mushrooms and bacon will be offered with red wine ristretto.
The pièce de résistance will come in the form of a honeyed venison loin sprinkled with pine kernels and enhanced with a wild berry jus, while those with a sweet-tooth can then look forward to the last of the six courses, a scrumptious selection of petit fours. With such a variety of dishes, Le Grill's chefs have created a culinary journey to savour in some of the Algarve's most luxurious surroundings.
Wine Tasting
Locally produced wine will be served alongside five of the mouth-watering courses, with each glass chosen for its unique complementary qualities. In order to guide diners through the flavoursome experiences they're enjoying, a bilingual oenologist will be explaining the key tasting notes of each wine selection during the evening. Successful pairing takes a finely honed palette to perfect and the oenologist will ensure an enlightening learning experience that'll also excite taste buds.
Each of the five glasses will be sourced from winery Quinta do Francês to provide a fantastic insight into the wealth of tastes the Algarvian vineyard can offer. Its two varieties, Quinta do Francês Odelouca River Valley and Odelouca, are grown in eight hectares in Silves and have been internationally commended, with awards won in Italy, Brussels and London. Benefitting from the variety of soils, the combination of a hot climate and cooling Atlantic breeze, as well as a passionately committed team, the high-quality grapes produced result in outstanding flavours. With a refreshing rosé, two fruity white wines and two intense reds, be taken on a taste tour of Quinta do Francês on the 27th of February.
Book Your Table
The wine and food pairing dinner at Penina Hotel and Golf Resort's Le Grill restaurant will be starting at 8.15pm on the 27th of February 2015. Tickets are available now for €41 per person (including wines) by calling (00 351) 282 420 200.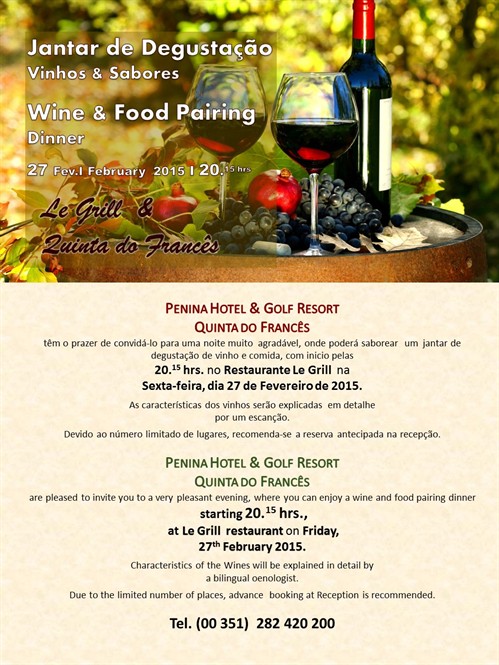 Fine-Dining During a Golfing Getaway
If the idea of indulging in a range of delicious Portuguese cuisine is more than a little tempting, where could be better to enjoy the country's rich and authentic taste than in one of its finest five-star resorts? Penina Hotel and Golf Resort can provide a luxurious introduction to a country famed for its food...and beaches, as well as being the ideal destination for a relaxing break away, with a world-class golf course and a range of impressive facilities for the whole family. Take a look at its latest offers and packages to choose a five-star stay that's right for you.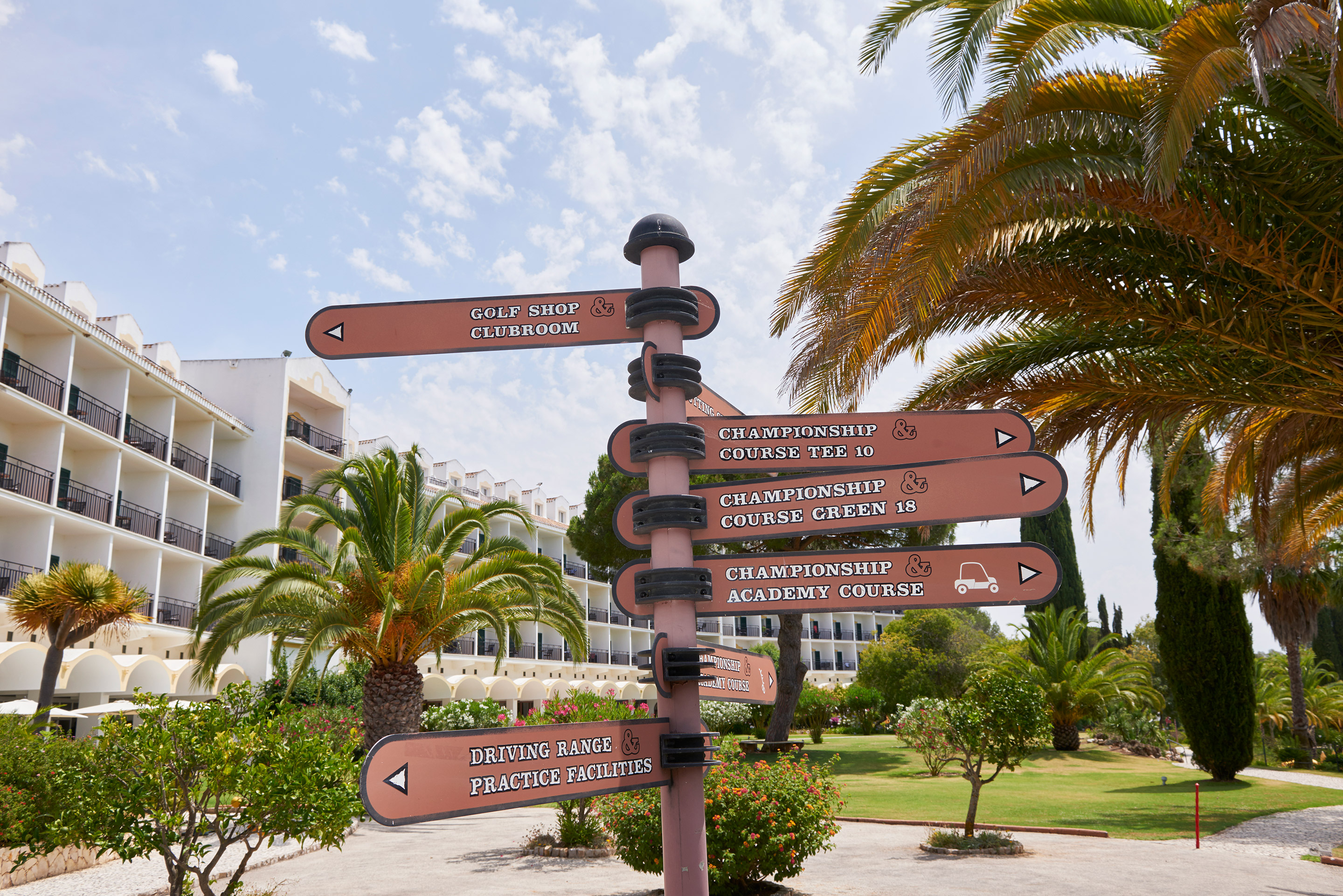 Golf Holidays at Penina Hotel & Golf Resort
Join us for a five-star getaway in the Algarve, filled with great golf, unrivalled gastronomy, exciting evening entertainment and a luxury stay at Penina Hotel & Golf Resort: all included with our selection of exclusive 3 or 7 night golf packages.
Click here for more
The International Pairs World Final 2017
Last November, Penina Hotel & Golf Resort hosted the International Pairs World Final. Take a look at some of the highlights as they played out on our stunning Sir Henry Cotton Championship Course.
Click here for more