Fine Dining in the Algarve with Wine Pairings
30 March 2015
---
24th of April 2015 at 8.15pm at Le Grill
To Book: Call (00 351) 282 420 200
Penina Hotel & Golf Resort is delighted to invite you to an evening of tempting cuisine with delectable wine pairings at Le Grill this April. Back by popular demand, the experience offers diners the chance to sample an array of exquisite flavours during five courses, each accompanied by a glass of Quinta dos Murças wine. We are excited to be collaborating with such a highly regarded wine producer, offering a divine taste of Douro for just €41 per person. There will also be a bilingual oenologist on-hand to explain the complex characteristics of each sip. After a sell-out event in March, we expect our fourth wine-pairing event of the year so far to be popular and advise booking early to avoid disappointment.
Five Outstanding Courses
As one of Penina's many elegant restaurants, Le Grill prides itself in serving speciality Portuguese and gourmet international cuisine, and its wine pairing dinner menu will continue in delivering the finest tastes from the Algarve and beyond. As a nod towards the region's heritage of fishing and its wealth of local ingredients, the evening will start with an amuse bouche of roasted scallop with pea foam. Next, chargrilled yellowfin tuna and the Sicilian dish of vegetable caponata will combine to provide an appetizing starter. Wild boar ragout and delicious lengths of papardelle will follow, before the main dish of the evening is served. A rich black truffle sauce will be drizzled over beef wellington, offering a truly mouthwatering culinary experience. If all of that wasn't enough, the scrumptious dark chocolate cake for dessert will be sure to impress every palette, accompanied by a refreshing wild berry sherbet. A glass of complementary wine will accompany each of these five stand-out courses to ensure a dining event to remember.
Sustainable Wines with a Sensational Flavour
This April, each of the five glasses of wine accompanying the enticing menu will be from Quinta dos Murças. Located in the famous wine-producing region of upper Douro, the 2,000 square metres of winery is owned by Esporão. The company's aim is "to create the best products offered by nature, in a responsible and inspiring way" and is does this through organic production methods, use of renewable energy, involving local artists in designing packaging... right down to preserving historic architecture. The Quinta dos Murças property in Cima Corgo dates back to 1770 and winds along 3.2 km of riverfront, which offers a range of micro-climates to grow grapes, alongside olives, oranges, tangerines and lemons. The region is known for producing balanced flavours, from the light and fruity notes of the sparkling wine that will begin the evening, to the intense notes of the 10 year that will pair perfectly with the decadent dark chocolate dessert. The refreshing rose and deep red Assobio will allow the palette to prepare for the Reserve, which will offer a tasting experience that includes red fruits, violet and smoke. We invite you to join us for an insight into authentic Portuguese wine, with every hint, aroma and note explained in detail on the night.
Book Your Place Now
The wine and food pairing dinner at Penina Hotel and Golf Resort's Le Grill restaurant will be starting at 8.15pm on the 24th of April 2015. Tickets are available now for €41 per person (including wines) by calling (00 351) 282 420 200.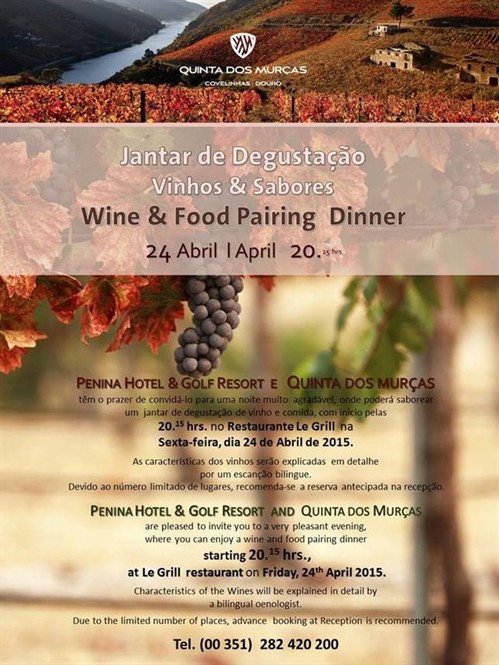 Sample Local Delicacies during a Five-Star Stay in the Algarve
Those planning a luxury sun-soaked holiday in the Algarve this April can take the opportunity to taste the finest flavours of our country inbetween exploring and enjoying the vast beaches, many natural beauty spots and world-class golf on offer. Le Grill's pairing event will be ideal for tasting local and international cuisine of the highest standard, combined with a selection of delicious wines in grand surroundings. Penina Hotel & Golf Resort offers a range of impressive facilities alongside its restaurants, from the largest private outdoor pool in the Algarve to a FIFA size pitch and much more. Find the latest offers and packages here for an unforgettable escape.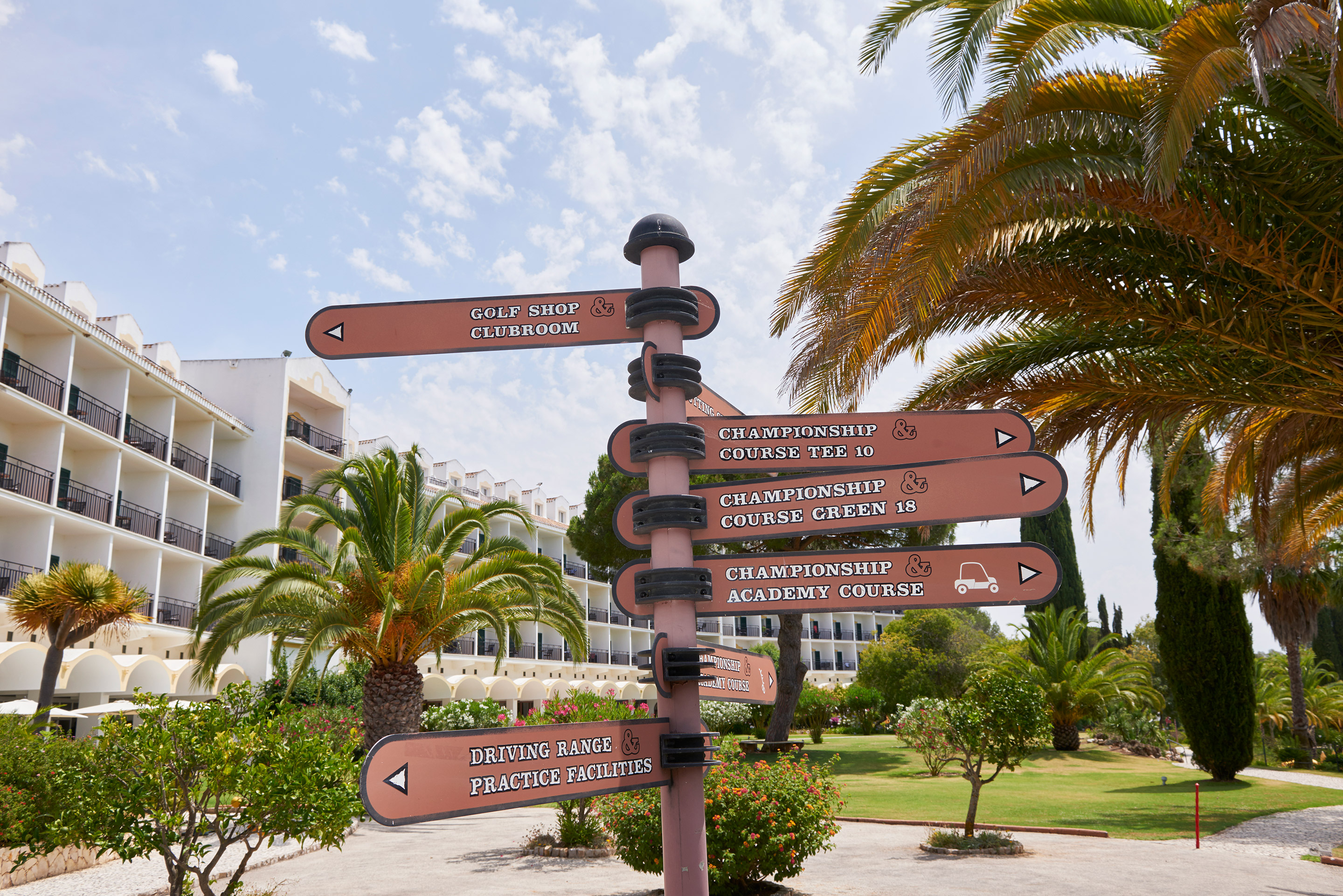 Golf Holidays at Penina Hotel & Golf Resort
Join us for a five-star getaway in the Algarve, filled with great golf, unrivalled gastronomy, exciting evening entertainment and a luxury stay at Penina Hotel & Golf Resort: all included with our selection of exclusive 3 or 7 night golf packages.
Click here for more
The International Pairs World Final 2017
Last November, Penina Hotel & Golf Resort hosted the International Pairs World Final. Take a look at some of the highlights as they played out on our stunning Sir Henry Cotton Championship Course.
Click here for more